China boosts military budget while warning of escalating threats
Share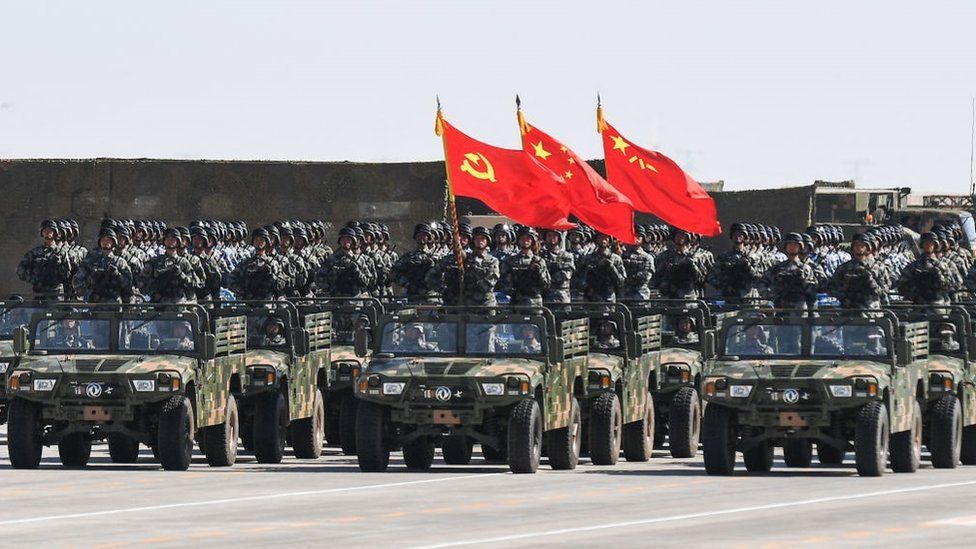 China will increase military spending by more than 7% this year, while warning of "escalating" threats.
It was announced at the National People's Congress (NPC), a rubber-stamp parliament, which is due to confirm President Xi Jinping's third term.
Beijing's military budget – around $225bn (£186bn) – is still dwarfed by that of the United States, which is four times greater.
But analysts believe China downplays how much it spends on defence.
Outgoing Premier Li Keqiang told the NPC that "external attempts to suppress and contain China are escalating".
"The armed forces should intensify military training and preparedness across the board," he said.
It was also announced at the meeting that China would pursue a reduced economic growth target of about 5% this year.
The Two Sessions, as the meetings are known, are an annual affair.
But this year's sessions are particularly significant as delegates are expected to reshape several key Communist Party and state institutions.
This week's NPC meeting will also formalise Mr Xi's leadership of the country, as he will be elected president of China and head of the armed forces.
He secured his position in the echelons of Chinese power in October last year, when the Communist Party re-elected him as their leader for a third term.
The increase in military spending comes as Mr Xi is navigating worsening ties with the US over the Ukraine war and the recent spy balloon saga, even as he warms his embrace of Russian leader Vladimir Putin.
US officials have also repeatedly warned that China may invade Taiwan in the coming years. China has held ever-growing displays of military force in the air and seas around Taiwan, including the firing of ballistic missiles.
China sees self-ruled Taiwan as a breakaway province that will eventually be under Beijing's control.
The NPC will also unveil the new premier, China's equivalent of a prime minister who traditionally oversees the economy and administrative aspects of governance.
Li Qiang, one of Mr Xi's most trusted colleagues, is expected to assume the role.

China's Two Sessions: The basics
The Two Sessions in Beijing are the annual meetings of China's legislature and top political advisory body which attract thousands of representatives from across the country
The National People's Congress is the country's equivalent of a parliament that is, in theory, the most powerful state organ. In reality it acts as a rubber-stamp body for the ruling Chinese Communist Party, passing key laws on decisions that have already been made
The Chinese People's Political Consultative Conference (CPPCC), which has no real legislative power, draws its members from various sectors of society. Their debates are worth noting for emerging social and economic issues
Related Topics
More on this story
Top Stories
Features
Elsewhere on the BBC
Most Read
BBC News Services
© 2023 BBC. The BBC is not responsible for the content of external sites. Read about our approach to external linking.