Chinese president accepts invitation to visit to Tehran
Xi and Raisi call for full implementation of JCPOA
February 17, 2023 – 1:29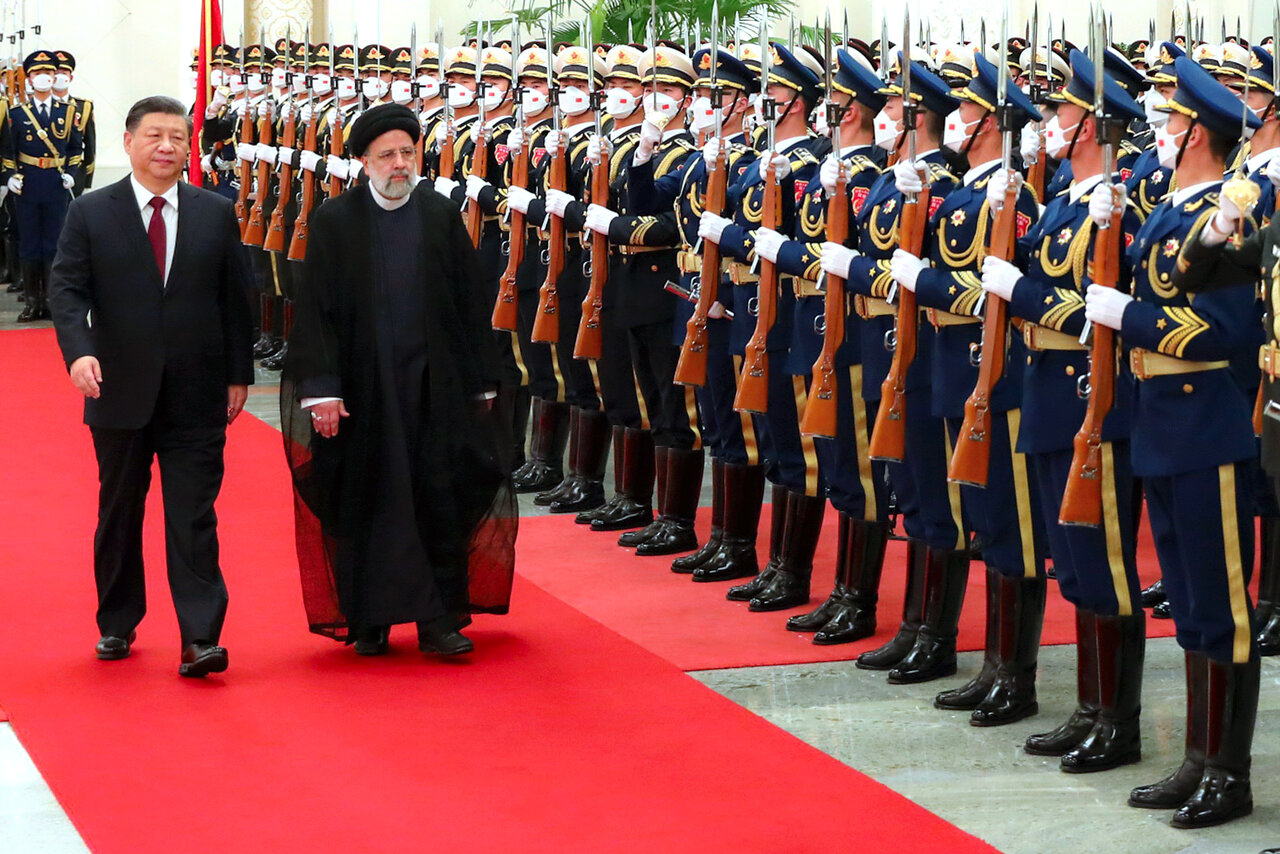 TEHRAN – In a joint statement on Thursday, President Xi Jinping of China and his Iranian counterpart Ebrahim Raisi called for a full and effective implementation of the 2015 Iran nuclear deal – JCPOA – by all sides and lifting of all U.S. sanctions on Iran in a verifiable manner.
Raisi and Xi insisted that Washington's unilateral pullout from the JCPOA is the root cause of the current stalemate in the negotiations to revive the landmark agreement.
In their joint statement which was issued at the end of Raisi's three-day state visit to Beijing, the two presidents stressed the importance of lifting sanctions and ensuring Iran's economic benefits as important components of the JCPOA.
"All relevant sanctions must be lifted in a verifiable manner to facilitate the full and effective implementation of the JCPOA," the two presidents insisted.
The two presidents also voiced their strong objection to efforts by some countries to politicize the work of the International Atomic Energy Agency (IAEA) in the implementation of the nuclear Safeguard Agreement.
The negotiations to resurrect the JCPOA have been stalemated since August 2022 as Washington refuses to lift all the sanctions that were imposed on Iran by the Donald Trump administration.
Also, the Iranian and Chinese presidents fully discussed cooperation in all areas as well as regional and international developments and reached broad agreements, including accelerating the implementation of a strategic 25-year partnership agreement between the two countries.
Raisi and Xi voice strong objection to politicize the IAEA work.
Iran and China signed the landmark comprehensive strategic partnership agreement in March 2021 in defiance of unilateral sanctions against the two countries by Washington.
The deal officially documents the Sino-Iranian Comprehensive Strategic Partnership that had been announced during a visit by President Xi to Tehran in 2016.
Elsewhere in their statement, Raisi and Xi reiterated their firm support for the establishment of a Middle East free of nuclear weapons and other weapons of mass destruction.
They highlighted the role of the NPT Review Conference in forcing Israel to join the treaty and placing all its nuclear facilities under the IAEA supervision.
The two sides emphasized the importance of disarmament and non-proliferation of nuclear weapons for improving international peace and reiterated their respect for the inalienable rights of all NPT signatories to develop nuclear technology for peaceful purposes.
Iranian and Chinese presidents strongly back two countries' territorial integrity
The Iranian and Chinese presidents also expressed their strong support for issues related to the two countries' basic interests, protection of national sovereignty and territorial integrity.
According to the statement, the Chinese side strongly opposes interference of foreigners in Iran's internal affairs and efforts to undermine the country's stability and security and supports Iran's increasing role in regional and international issues.
The Iranian side also continues its commitment to the One China policy, it added.
They also agreed to accelerate the implementation of the 25-year comprehensive cooperation plan and further development of cooperation in areas of trade, agriculture, industry, renewable energy and infrastructure.
According to the statement, the Chinese president also accepted an invitation from his Iranian counterpart to pay a visit to Tehran.
Raisi says Beijing welcomes Iran's bid to join BRICS
Speaking to reporters in Tehran on Thursday after concluding his trip to China, Raisi said China welcomes Iran's bid to join BRICS.
BRICS includes Brazil, Russia, India, China and South Africa. Their economies account for more than 40% of the global population and nearly a quarter of the world's gross domestic product.
Raisi predicted that an Iranian membership in in the economic bloc will be promising.
"There was a discussion about Iran's membership in BRICS, and we saw China's desire for this membership," he said.
"We have an effective role in the field of security in the region and across the world and we should play an effective role in the economy and trade as well," the president maintained.
President describes trip to China 'successful'
Raisi also called his visit to China "very fruitful and successful" and expressed hope that cooperation between Iran and China would improve further in various fields, particularly in trade and economy.
Tehran and Beijing are firm to strengthen cooperation in the fields of trade, economy, energy, science and technology, and signed 20 documents and memoranda of understanding in this regard, the president remarked.
He noted that the two countries' ministers held good discussions in areas of energy, industry, trade, and road construction, and urban development and agreed to expand relations in such fields based on transfer of technology.
During the visit, Iran offered some $40 billion worth of investment projects in its oil and gas industries to China, an Iranian Oil Ministry official said.
Ahmad Assadzadeh, the deputy oil minister for international and commercial affairs, said in remarks published on Thursday that the projects will include construction of methanol to olefins (MTO) units as well as petrochemical refinery complexes in southern Iran, Press TV reported.
"The important thing is that the Chinese side does believe in cooperating with us despite the oppressive American sanctions against our country," he was quoted as saying.
'Raisi's visit to China will mark a new chapter in ties'
China's ambassador to Tehran has said Raisi's visit to Beijing will advance the "strategic" partnership between the two states to a "higher level."
Ambassador Chang Hua made the statement in a special letter to IRNA on Thursday.
"I'm sure that this visit will effectively take the comprehensive strategic partnership between China and Iran to a higher level and mark a new chapter in our bilateral relations," he said.
"The close strategic ties represent the historic choice of Iran and China as two ancient civilizations of East and West Asia," the Chinese diplomat said. "As two independent countries, Iran and China expand their relations based on a spirit of mutual respect. The Two nations are considered honest strategic partners who deserve mutual trust."
"China and Iran are considered honest strategic partners who deserve mutual trust."
"Regardless of changes in the international and regional situation, Beijing will remain determined to develop friendly cooperation with Tehran to take the comprehensive strategic partnership between the two countries to a higher level amid unprecedented profound changes in the global situation," Ambassador Chang stated.
'Project of Iran isolation brought to a failure'
A members of the Iranian Parliament Economic Committee said President's Raisi's visit to China defeated a plot by Western countries to claim that Iran is an isolated country.
"This visit took place at a time when Western countries in cooperation with certain deceived elements were seeking an isolation of Iran at international stage, but the visit of Ayatollah Raisi nullified the evil goal of enemies and brought the project of Iran isolation to a failure," Mosslem Salehi told IRNA in an interview published on Saturday.
The MP added "China does not enter cooperation with countries that are not politically stable."
RELATED NEWS
TAGS
LEAVE A COMMENT
NameEmailYour Message
All Content by Mehr News Agency is licensed under a Creative Commons Attribution 4.0 International License.