NSA'S ARTIFICIAL INTELLIGENCE SECURITY CENTRE TO SAFEGUARD NATIONAL INTERESTS
The Daily Guardian|September 30, 2023
The National Security Agency is starting an artificial intelligence security centre — a crucial mission as AI capabilities are increasingly acquired, developed and integrated into US defence and intelligence systems, the agency's outgoing director announced. Army Gen.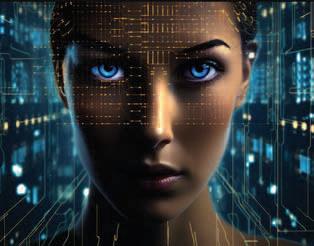 Paul Nakasone said the centre would be incorporated into the NSA's Cybersecurity Collaboration Centre, where it works with private industry and international partners to harden the U.S. defence-industrial base against threats from adversaries led by China and Russia.
"We maintain an advantage in AI in the United States today. That AI advantage should not be taken for granted," Nakasone said at the National Press Club, emphasizing the threat from Beijing in particular. Asked if the U.S. has detected either Russia or China using generative AI technologies such as deep fakes to try to influence the 2024 U.S. presidential elections, Nakasone said, "We haven't seen that yet." He noted that a number of elections will take place around the world before that and said the U.S. would work with partners and allies to help deter any such efforts.
Nakasone was asked about using AI to automate the analysis of threat vectors and red-flag alerts — and he reminded the audience that U.S. intelligence and defence agencies already use AI.
"AI helps us, but our decisions are made by humans. And that's an important distinction," Nakasone said. "We do see assistance from artificial intelligence. But at the end of the day, decisions will be made by humans and humans in the loop." The AI security centre's establishment follows an NSA study that identified securing AI models from theft and sabotage as a major national security challenge, especially as generative AI chatbots emerge with immense transformative potential for both good and evil. Nakasone said it would become "NSA's focal point for leveraging foreign intelligence insights, contributing to the development of best practices guidelines, principles, evaluation, methodology and risk frameworks" for both AI security and the goal of promoting the secure development and adoption of AI within "our national security systems and our defence industrial base."
He said it would work closely with U.S. industry, national labs, academia and the Department of Defence as well as international partners. Nakasone is to be succeeded as dual leader of the NSA and U.S. Cyber Command by Air Force Lt. Gen. Timothy Haugh, his current deputy.
---