As a historian of the past and an observer of current affairs, the events of the past few days mark the turning of the wheel of time for me. The chakra has turned and how!
It is a time of revival and re-awakening of Bhartiya civilization, long in slumber, which will have a profound global effect on the 21st century of the common era.
I write in the context of the India-Middle East-Europe Economic Corridor (IMEC) which was announced at the G20 Leaders Event on the Partnership for Global Infrastructure and Investment on 9 September.
This is being seen as a response to the failing but globally ambitious Belt and Road Initiative of China.
Through this China had sought to bind countries across the world in exploitative and iniquitous infrastructure deals which have become deadly debt traps. IMEC is a strong riposte and alternative vision of global infrastructure.
The governments of Saudi Arabia, the European Union, India, the UAE, France, Germany, Italy and the United States of America have committed to work together to establish the India-Middle East-Europe Economic Corridor (IMEC).
The IMEC is expected to stimulate economic development through enhanced connectivity and economic integration between Asia, the Arabian Gulf, and Europe.
The IMEC will comprise two separate corridors, the east corridor connecting India to the Arabian Gulf and the northern corridor connecting the Arabian Gulf to Europe.
It will include a railway line that, upon completion, will provide a reliable and cost-effective cross-border ship-to-rail transit network to supplement existing maritime and road transport routes – enabling goods and services to transit to, from, and between India, the UAE, Saudi Arabia, Jordan, Israel, and Europe.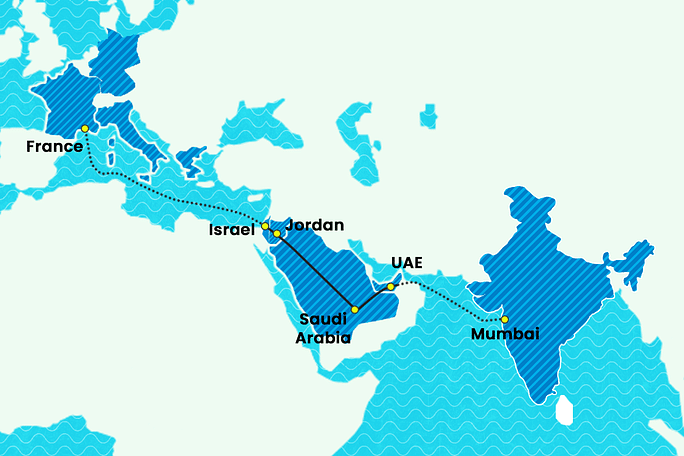 India is already an engine of global growth , IMF estimates 15 per cent of global growth will be powered by India in 2023. Going forward, there could even be a jump in private investment needed to realize long term growth dreams and objectives.
Can this IMEC be a harbinger to a recovery of Indian economic place in the world, can we look to a time when India contributes a third to world gross domestic product?
Time will be the judge; and a serious effort to maximize our resources, both human and material.